Product Description
Below you will find a list of our most commonly purchased ancillary items, which are each designed to enhance your sampling and testing capabilities. Most of the items listed below are available as sterilized goods, and therefore offer the option of instant use. Please also be aware that the items listed below only represent a small part of the ancillary items that we have available, but once we have completed revising our product range they will soon be listed here and made available. In the meantime, if you would like to discuss specific ancillaries that you are looking for, please do not hesitate to contact us, or alternatively if you would like a full price list for the ancillaries we have available, simply click the Get a Quote button to add this to a Request for Quote (RFQ).
Sterile disposable bulb pipettes
A fuel resistant polypropylene, sterile, individually wrapped, liquid transfer device.  Our standard pipette has a total volume of 3 ml and has 0.5 ml graduations.  Other sizes can be provided POA.
Sterile disposable pipettes may be used to take liquid samples or transfer samples from one container to another or to a test kit, without contaminating the sample.  Pipettes also allow the approximate volume of the transferred sample to be measured.  They are useful for removing water phase from under fuel or oil phase in samples in order to conduct a separate water phase test using MicrobMonitor2 test kits.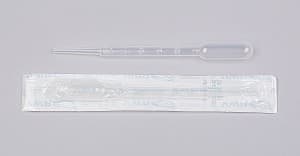 Remove the pipette from the wrap by opening the bulb end only.  Carefully remove and only touch the bulb.  Squeeze bulb to expel air, then insert into the liquid sample and slowly release the bulb to suck sample into the pipette.  Stop releasing the bulb at the desired graduation.  To transfer the measured sample to a test kit or another container squeeze the bulb to expel the liquid.
Pack Sizes:
ECHA07/PP/1ML/010 – PIPETTES, SINGLE BULB, 1ml, DISPOSABLE PACK OF 10
ECHA07/PP/1ML/100 – PIPETTES, SINGLE BULB, 1ml, DISPOSABLE PACK OF 100
ECHA07/PP/1ML/500 – PIPETTES, SINGLE BULB, 1ml DISPOSABLE PACK OF 500
Sterile Swabs
A sterile absorbent, microbiologically inert capture material attached as a head on sterile wooden or plastic shaft.  Swabs are individually wrapped in transparent, peel pouches.  Supplied in various pack sizes to suit your needs.  Sterile swabs can be used to remove microorganisms from a surface and transfer them to a test kit for analysis.  If the approximate area swabbed is measured, a microbiological test result can be related semi-quantitatively to that area.  Under certain circumstances a surface may need to be tested for the presence of microorganisms, for example;
To establish if internal surfaces of fuel tanks have been colonised by microbial biofilms (use the swab with MicrobMonitor2).
To determine if deposits on filters are microbial (use the swab with MicrobMonitor2).
To assess whether corrosion pits may have been caused by Sulphate Reducing Bacteria (SRB) (use the swab with MicrobMonitor Sig Sulphide).
Simply open the peel pouch at the opposite end to the swab head.  Avoid contaminating the swab head by only touching the shaft of the swab at the very end.  Gently roll the swab head across the surface being swabbed, rotating it against the direction of movement.  Transfer sample to a test kit such as MicrobMonitor2 or MicrobMonitor Sig Sulphide.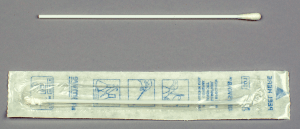 Pack Sizes:
ECHA15/SW/03 – SWABS, STERILE,  PACK OF 10
ECHA15/SW/02 – SWABS, STERILE,  PACK OF 100
ECHA15/SW/01 – SWABS, STERILE,  PACK OF 1250
Sample Pots
Sample pots which enable the collection of liquid, sludge and corrosion scale scraping samples from a wide variety of sample sources are available in a range of volumes (ml) and pack sizes.
Sterile; in order to eliminate the risk of contaminating a sample with microbes from a dirty sample bottle and ensure your analysis results relate entirely to the sample and not to the sample container.
Provided with a tamper evident label to enable easy sample identification.
Fuel resistant and leak proof.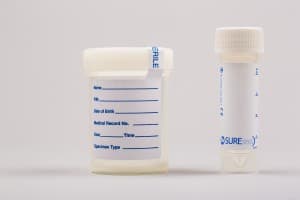 Pack Sizes: